When I was at the Gap with my mom and brother, I picked up a hat and tried it on. I was intrigued; the hat was soft, not itchy, not tight to mess up my hair or make me feel uncomfortable, with flaps to — and here is the best part — COVER MY EARS. In other words, I found the perfect winter hat. Just what I never knew I always needed.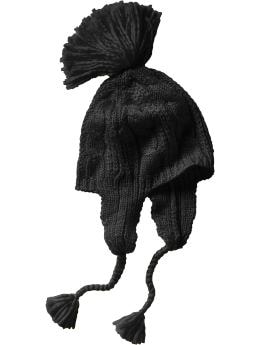 I walked up to my family members while wearing the hat to get their thoughts. They laughed and said it looked a little silly, but when I told my mom how comfortable and warm I felt, she offered to buy it for me.
As soon as I walked outside, I knew I made the right choice with the hat. I felt warm and cozy. And when my mom and brother started laughing over how ridiculous I looked, I didn't even care much. I was warm. My ears were covered!
A week later when my mom laughed at me again, I knew it was because I looked cute!
I began wearing the hat on every cold day. I knew it looked a bit silly, but when it was that cold I would wear my coat hood over the hat anyway, and I tend to pull the hat off on the subway anyway. And again, I cannot stres how warm and soft the hat is — and it doesn't mess up my hair. In fact, I believe it improves my hair. One day I forgot to bring my hat, and my ears nearly froze off. It was a sad day.
So this week I was on the subway after work on one of the coldest days so far. There was freezing rain and snow outside, and I had just walked 4 avenues to get to the train. I was freezing. The train was so packed that I couldn't maneuver to remove my hat — but I didn't want to anyway. I was freezing! And I would just have to put that hat on again after a couple stops when I got off the train.
After one stop, three obnoxious guys got on. It's actually really hard to put into words just how obnoxious they were — you really needed to be there to understand. Also, I had my headphones on so I was trying to tune them out. There were 3 guys, abut 18 or 19 years old. Clearly uneducated. Clearly stupid. White, but clearly trying to be black. They were being ridiculously loud and I am positive the other people were as annoyed as I was. The most obnoxious of the three starts freestyling — loudly. He even used the N word, and I was sad to not see anyone around us who might have wanted to hurt him for that. It was his lucky day, I guess. He and his friends were being stupid and laughing, and then it became personal.
"Hey, tell that girl you like her hat!" followed by a lot of laughter amongst the friends — as if I wasn't standing right next to them and couldn't hear them. They laughed like it was the funniest thing they ever heard. I was mortified not because I cared what they thought but because I didn't want the other people on the train to look at me. If there is one thing I can't handle, it is when the attention of more than 3 people at a time is focused on me. It scares me to death, and I try to avoid drawing attention to myself as much as possible.
I pretended not to hear them, even though it was impossible not to hear them, being that I was RIGHT NEXT TO THEM. My stop couldn't come soon enough. And really, the hat might be silly, but it's not so ridiculous as to be an object of public ridicule! It's from the GAP! How bad can anything that widely mass produced really be?
Needles to say, when I got back outside in the sleet, I was thankful that I hadn't forgotten my hat like I had the day before. My ears were thankful, too.