Yes, you heard me right! I have not one, not two, but THREE prizes up for grabs. And they are amazing prizes. As you might know, I love me some Lotte Berk-type classes. Core Fusion, Physique 57, etc. They are the only strength training workouts I'll even do. I am highly addicted to them, I love them, I crave them, I jumped on an online sale to get myself 30 Core Fusion classes at a discounted rate — which I am excited to be using!
And I am very excited to offer three of you a DVD from these classes. Here are the prizes:
Classic 57 Minute Full Body Workout
Core Fusion Body Sculpt
Core Fusion Pilates Plus
I have taken classes at both studios and they are AMAZING. You will seriously strengthen and sculpt your body if you stick with these and the time tends to go quickly. I own the Core Fusion DVDs and they are tough but great. And if you have doubts, just look at Kelly Ripa. She is obsessed with Physique 57! Lots of celebrities go to both Core Fusion and Physique 57, which is pretty cool.
I get a good amount of traffic to my blog by people searching Physique 57 and Core Fusion in their search engines. So hopefully you searchers are reading this, because you might get your questions answered if you win.
About the Physique 57 classes and DVD:

Physique 57™ is a focused and proven cardiovascular program of isometric exercises and orthopedic stretches. Physique 57™ tones your seat, abdominals, thighs and arms; strengthens your legs and back; and improves posture to produce a beautiful, sexy body. Our interval training sets use your own body weight for resistance, and through dynamic exercises your muscles are targeted and overloaded to the point of fatigue, then stretched for relief. We call our process Interval Overload – overloading the muscle to create long, lean sexy muscles.
Get rapid results in a few short weeks with the Classic 57 Minute Full Body Workout.  DVD features: * Bonus Moves * About Physique 57™ * Client Testimonials
About the Core Fusion classes and DVDs:
Core Fusion® is a Pilates-infused transformational fitness experience allowing you to work from the inside out as it consistently delivers results. This highly publicized mind body class is proven to give you washboard abs, a tighter and higher backside, and a perfectly toned body. This one-hour class fuses the disciplines of Lotte Berk fundamentals, core conditioning, Pilates, and yoga to produce long, lean muscles, a flexible, youthful body and a sense of peace and relaxation.
Experience total body transformation with Core Fusion! Featuring Elisabeth Halfpapp and Fred DeVito, co-founders of exhale spa's proprietary class Core Fusion®, the first two DVDs — and Core Fusion™ Pilates Plus and Core Fusion™ Body Sculpt — are segmented into five focused workouts of just 10 minutes each providing you the opportunity to continue exhale's transformational mind body class experience at home.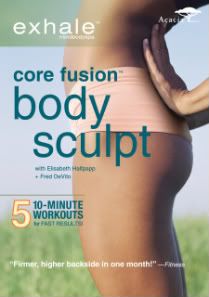 You can read more and watch clips of the Core Fusion DVDs here and the Physique 57 DVD here.
Okay, now that all that good stuff is out of the way, I hope you're curious to find out how you can win one of these babies.
I need help from all of you. I am working on a project and I would love it if you could fill out a quick, 15 question survey for me. It shouldn't take up more than 5 minutes of your time.
The survey is about one of my favorite topics — exercise. The survey is basically anonymous, but you will find a spot to enter your email address. This is used ONLY to confirm your entry. Otherwise, anyone can comment and tell me they did the survey when really they didn't, which wouldn't be fair to those who did. I promise your results will never be tracked back to you.
I will use the random integer generator to choose 3 winners. Each winner will get one DVD. If you have a DVD preference, feel free to let me know in the comments, but be aware that I can't promise you will get your preference if you win.
You can get more than one entry. Here are the ways to enter:
How to Enter
Complete this survey:  Dori's Shiny Exercise Survey (comment to let me know)
Tweet the survey! Paste the below message into your Twitter status:
RT @dysterious: Enter for a chance to win a Core Fusion or Physique 57 DVD http://bit.ly/pLjMO
(You can tweet it one time each day for multiple entries)
Post a link to this entry in your own blog
Post a link to this entry as your Facebook status or as a note, and comment or email to let me know!
You have two weeks to get your entries in. I will announce the winners on Tuesday, October 13.
I really appreciate your help with this survey. The more responses I get, the more this will help me out. Thank you!